A Tracker's Revenge!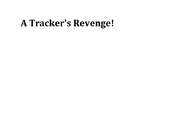 Premise
Bernadette reports to Elijah about Jordan's elimination but she also reports forfeiting to Christopher during their last encounter allowing her to gain access to recruits as yet an ally reports to the Jones Family about Bernadette's antagonistic return for revenge!
Ad blocker interference detected!
Wikia is a free-to-use site that makes money from advertising. We have a modified experience for viewers using ad blockers

Wikia is not accessible if you've made further modifications. Remove the custom ad blocker rule(s) and the page will load as expected.